Evergreen Power Solar is the UK's premier solar panel company. We believe in doing the job right, with our customers in mind. So, here we address all you need to know:
Here you will find answers to the most common Solar PV questions and a little more. We also explain the pros and cons of solar installation and how you can get solar panels in the UK.
Why Choose Solar Panel Installation
Solar panel installation is the way to a greener Britain. Yes, you are right in thinking that the weather isn't adequate for solar panels. However, this all depends on how the job is done, who does it, and how you use them. There are things you need to know, such as positioning and maintenance. But the benefits outweigh the disadvantages when the job is done right. Fortunately, we have 10 years of experience and are MCS, NAPIT, HIES, and ePVS-approved.
What Do Solar Panels Cost in the UK?
You might be put off because of the costs associated with solar panel installation in the UK. But where solar panels once were expensive, the solar PV cost is nowhere near as much as in the early days of the technology. Today, solar panels have been refined and reworked, so the solar panels cost in the UK is much less, and you get much more. In fact, since 2010, the cost of solar panel installation has dropped by a whopping 70%. So, anyone can afford them today.
How Do They Work in the British Weather?
The big question. Of course, we all know how miserable, grey and unpredictable the British weather can be. Yet solar panel technology doesn't work the way most people think. You see, the small cells store solar energy that comes from sunlight. Which, of course, we get in the daytime. So, as long as there is light, your solar panels are actively gathering energy for you. And they even work on cloudy days. So, it's a win all around for people living in the UK!
The Benefits of Solar Panel Installation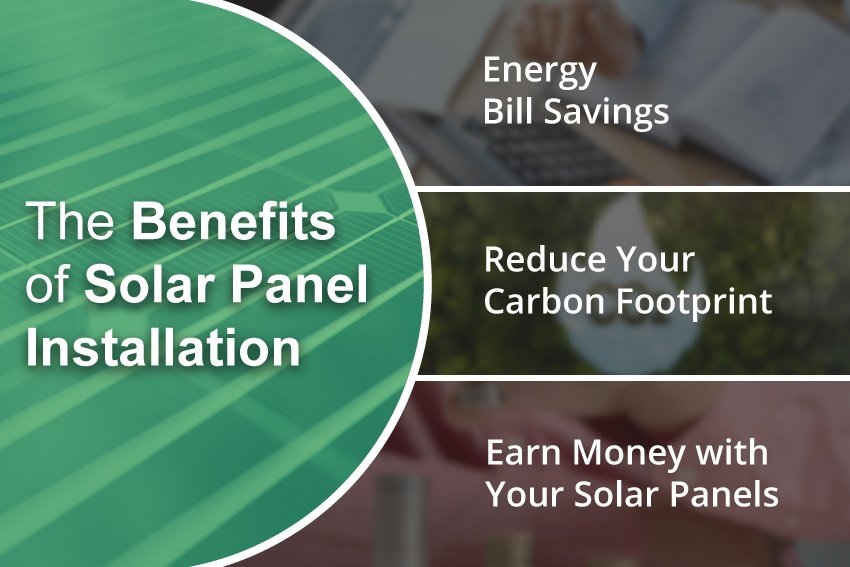 There are numerous benefits to solar panel installation. Overall, it offers financial savings, increased home value, energy independence, and a greatly reduced environmental impact.
Energy Bill Savings
One of the most significant benefits of solar panel installation is the reduction in energy bills. By generating your own electricity, you can significantly reduce your monthly energy bill.
Reduce Your Carbon Footprint
Solar panels are a clean and renewable source of energy, which means that they don't produce any of the harmful emissions or pollutants that can harm the environment as with fossil fuels.
Earn Money with Your Solar Panels
Many people aren't aware that they can earn money with their solar panels. If you make more electricity than you need, you can trade it with green utilities over the electric grid for cash.
Join a Growing Trend and Play Your Part
Unfortunately, most of the world has been slow to pick up on solar energy. However, it is growing. And today, over 800,000 homes have solar panels in the UK. And even the government recognises the benefits of solar energy. The UK government has pledged to triple its solar energy capacity by 2030 as a move towards full decarbonisation. This is only good news for the solar industry, and you get in on the action right now as an early adopter.
11 Little Known Facts About Solar Panel Installation
So, now you know a little bit about solar panels, solar energy and installation. However, there are still some misconceptions or things you aren't aware of. Commonly, these often include:
Most people assume that solar panels are only installed on roofs, but they can also be installed on the ground or on a pole.
Solar panels need to be set up at the right angle and in the right direction to catch the most sunlight and work as well as possible.
Over the last ten years, the price of solar panels has gone down a lot, making them easier to get.
The process of installing it is simple. Putting in solar panels usually takes between one and three days, depending on how big the system is.
Solar panels require little maintenance. But it's important to keep them clean and free of debris to make sure they work as well as possible.
Adding solar panels to your home can make it worth more. Solar panels can make your home worth more and make it more appealing to buyers.
Solar panels work best in places with a lot of sunlight, but they can still make electricity even when it's cloudy or raining.
Solar panel installation may require permits. Check with your local government to see if you need a permit before you install solar panels.
You can either buy or rent solar panels. If the cost of installing solar panels is a concern, you can rent them instead of buying them outright.
By putting in a battery storage system, you can store the extra energy that your solar panels produce and use it when the Sun isn't out.
Solar panels are a source of energy that doesn't run out. Solar panels use the Sun's rays to make electricity, so they are a clean, renewable source of power.
At Evergreen Power Solar, we are the number one solar panels installers in the UK. With over 10 years of experience, we can offer you top-quality solar panel installation for your projects.
Solar Panels for Your Next Project
Of course, solar panel installation costs can be a little higher than other energy sources at first. But in the long run, you'll save money by putting solar power into your home. Once you pay to have solar panels and batteries installed, you can get free energy from them. This can save you a considerable amount on your electricity costs. Our solar panels can completely change the amount of cash you spend on energy bills and give you real money back over time.
Are Solar Panels Cost-Effective?
Energy from the Sun will help you cut down on your carbon emissions and do your part to save the planet. But it's also an excellent alternative to paying your electricity provider a lot of money.
A Good Return on Your Investment
Solar PV cost to install. But they are much cheaper than they once were. Also, any savings made will take around 10 years to offset the cost. But the lifespan is upwards of 25 years.
They're Cheaper than Ever
As mentioned, solar panel installation is much cheaper than before. Today, you can expect to pay 70% less for a solar panel project than only 10 years ago. And the price is still falling.
We Offer Excellent Finance Solutions
There is an initial upfront cost of installation. But all reputable solar panel installers, like Evergreen Power Solar, offer finance packages to suit your budget, no matter the size.
About Solar Panel Finance
At Evergreen Power Solar, we can install solar panels and batteries with custom payment plans. Our plans typically start at 9.9% APR. But please note that we do not set this. The loan is provided by Phoenix Financial Consultants Limited. Their loans allow us to offer suitable options on your quotes at a reasonable and competitive solar PV cost. For a solar panel loan application, please see the following page on our website for all the details you need:
Evergreen Power Solar: Solar Finance Options
How to Store Your Solar Panel Energy
Even in a country as grey as the United Kingdom, solar energy is a great option for making the most of what the Sun has to offer. When the Sun's light hits PV cells, the energy doesn't need to be used right away, and you can store it for later use. Solar battery storage lets you store the electricity that your solar panels make during the day so that you can use it at night time. This makes it possible to use solar power at any time of the day, even if the Sun isn't out.
The Best Solar Panel Installers
Our solar panel installers at Evergreen Power Solar have been trained to make sure that Solar PV Systems work as well as possible. Our objective is to provide quality solar panel installations that go above and beyond what our clients expect. When you want a quote, we will send out one of our professional consultants to look at your property and give you a quote that is good for a year. Because of this, we are MCS, NAPIT, HIES, and ePVS-approved for work in the UK.
We guarantee to put in high-quality products that meet the highest British standards.