Our fields of prowess include photovoltaic systems and the proper installation of solar panels and batteries across Portsmouth. With decades of industry experience, we at Evergreen Power Solar contractors can deliver a high level of installation service along with our genuine expertise. We also provide free site assessments, and we will develop a system to meet your specifications and give you the opportunity to lower your energy costs something that can really matter as electricity prices hit record highs.
To learn more about solar panel installation in Portsmouth, kindly get in touch.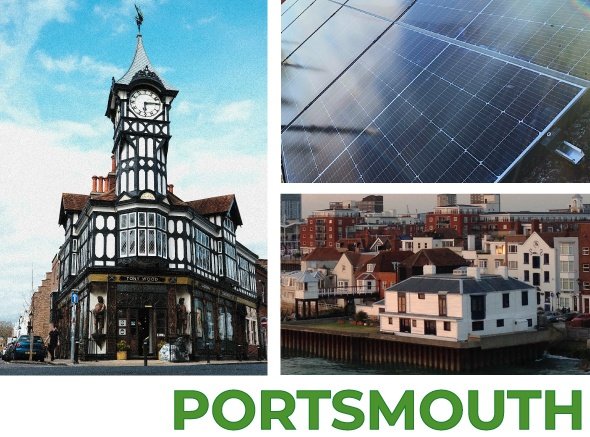 Economical Solar Devices
The most affordable and economical technology these days for renewable energy is photovoltaic. Solar panels are more rapidly accessible now that devices are less expensive, allowing more people to invest and install them. In fact, the size of a solar panel system affects how much power it can produce. Simply put, your home will receive more electricity from the system the larger it is. Furthermore, you can store the extra energy you generate for subsequent use and lessen your dependency on the National Grid by incorporating a solar battery into the system. You can request a personalised quotation if you want to learn more about how we can support you or if you have any doubts about whether you might be able to qualify for solar panel or battery installation or not.
Provide us with all the required information to receive a tailored Quote in the Portsmouth region.
Solar Energy Experts
We are glad to inform you that there has never been a more appropriate time to begin producing your own solar power with energy costs skyrocketing. We are able to offer a variety of solar deals to residents in order to lower their energy costs and increase the city's energy efficiency by collaborating with a variety of competent firms. And why not get in touch with our team members to learn about, whether you are looking to reduce residential energy costs or switch to a greener electricity supply, kindly contact us promptly.
To derive Bespoke Quotations from our solar energy experts, complete the Form given below.