When you opt for renewable energy, you can future-proof your property while staying with cutting-edge laws and legislation. By producing your own clean energy, our technology of solar panels empowers you to gain ownership of your energy supply. We are pleasantly sure that Milton Keynes is undoubtedly bright enough for the installation of solar panels and storage battery systems, and the UK as a whole is similarly sunny enough. Due to our local presence in the city, customers looking for solar panel and battery storage systems within and around Milton Keynes can be sure of a fast and abled service. No matter whether you live in Milton Keynes or elsewhere in the UK, Evergreen Power Solar has skilled team members based there to assist you to save significantly with solar energy.
If you contact us straight away, our solar professionals will provide you with a thorough recommendation outlining the ideal solar panels for your requirements.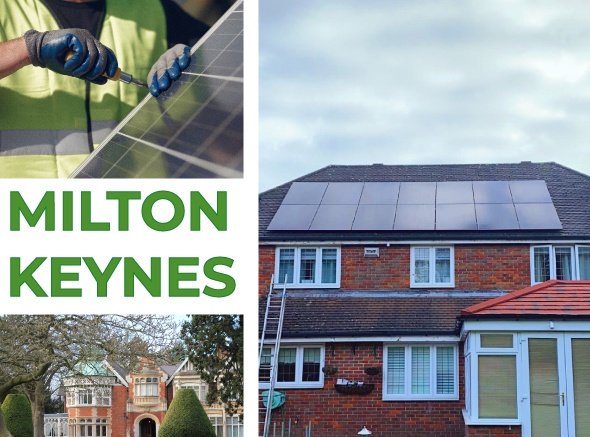 Solar Energy during Odd Hours
Due to advancements in solar technology in the last few years, we've significantly witnessed savings of up to 70% on the energy expenses of our clients in Milton Keynes. Combining solar panels with the storage battery system is the most effective way to maximise your potential savings during odd hours. By storing the surplus energy your solar panels produce so you can utilise it after the sun sets, you will be able to ameliorate your profit.
We also provide a Free, no-obligation residential survey to evaluate your energy consumption and expenses in order to provide you with a review that is unique to you and shows how much money solar could save you.
Local Presence with National Reach
Your savings will be specific to you and will be based on your individual energy profile, so you can approach our team right away to schedule a home inspection and learn more about your individualised savings. This enables us to only configure what your home absolutely requires while also optimising your savings. Since Evergreen Power Solar has installers located all over the UK, we can easily schedule a visit to your home for a quick home survey for clients in Milton Keynes at a time that is convenient for you. To provide you with the finest service and a personal touch for your solar panel installation, our locally managed team will assist. And to get a quick qualification response from our team to see if you qualify or learn more about how solar energy can help you save money, reach out to us at the earliest.
Kindly complete the online Form to derive an instant Quote from us.