Solar electricity is clean, renewable, and absolutely free once your solar panels are installed. The panels that we at Evergreen Power Solar, acquire are of the highest quality. They offer years of warranties but require significantly less time to save you the same money spent on the installation process. You will be able to power your home for free with solar panel installation.
Evergreen Power Solar serves to make the green and sustainable transition as simple as possible for Lambeth residents. Our team is well-advanced and learnt about solar technology. We are fully qualified and licensed, and we have worked in the installation of solar panels for many years now. We also have a variety of significant certifications and memberships, like NAPIT, MCS, Trustmark, and RECC, because we promote only quality and sustainability.
Contact us right away and derive an instant Quote now.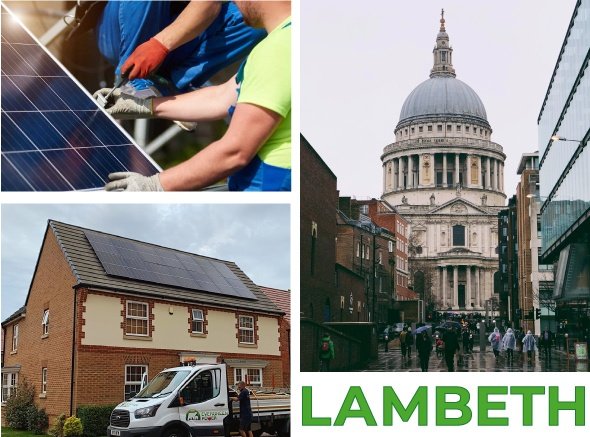 Harness Solar Energy
To encourage customers to harness the renewable energy derived from the sun while assuring economic viability and incredibly attractive designs.
Solar panels are a straightforward and low-cost solution to fuel your home while cutting costs on your energy bills. The solar panel transforms sunshine into direct current electricity, which may then be used in your home.
We only supply and install the highest-quality solar panels for your residence, manufactured by some of the industry's greatest manufacturers. We'll evaluate the price of installing solar panels for you once you've given us consent. We'll put everything into writing and send you an estimate with a quote. This will also provide a figure for your repayment period, or the time it will take for your panels to pay for themselves.
If you have a battery, you can use any additional energy stored in the battery during the night. This decreases your dependency on the power grid. Furthermore, with a battery, there is no need to return to using electricity from the national grid, which means you always spend less!
Send us an enquiry about solar panel and battery installation in Lambeth and get a Bespoke Quote right away.
How do our Installers work?
We do not intend to take your cash unless we can genuinely help. So we'll come to you and examine your property before proceeding any further. We'll inspect your roof's structure, the condition of your electric wires, and the annual electric bill. We'll also evaluate the quality and quantity of daylight that your roof receives. When we have all of the necessary information, we will be able to tell you whether solar panels are a good investment for you.
There are diverse kinds of solar panels and batteries, and their availability varies. Based on our first analyses, we'll recommend the best solar panels and batteries accessible in Lambeth. We will install a solar panel system on your roof, based on your request or on a date that best suits you.
Please contact us with any queries or problems, and we will respond as soon as possible with the most affordable QUOTE for you.