Install solar panels in Hounslow from the experts and skilled installers of Evergreen Power Solar to significantly lower your electricity costs and contribute to the preservation of the planet's future. We assure you that solar panel installation is a great investment that pays for itself in a short period of time.
Your property's cost of electricity will be immediately reduced when solar panels are installed. Going solar is now more advantageous than ever given the recent volatility in the electricity market and the steadily rising cost of electricity. Take back control of your electricity expenditures by using solar energy to generate your own electricity. Many of our clients find that their solar panel installation has recovered for itself in a few years due to the savings that solar panels offer and the growing power costs.
For a FREE, no-obligation Quote tailored to your property and your energy requirements, kindly get in touch with us right away.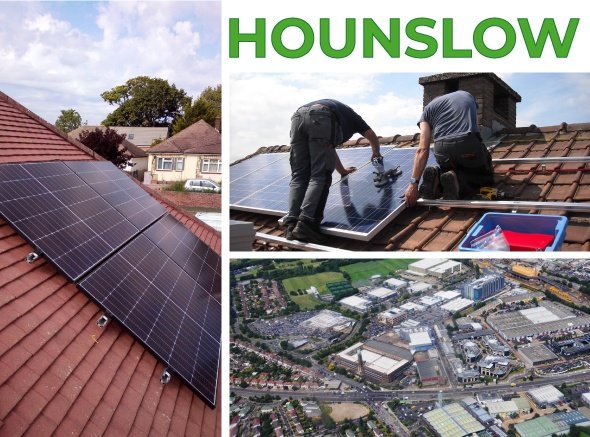 Elevate Your Property Resale Value
Boost the worth of your property with solar panel installation in any part of Hounslow. Did you realize that installing solar panels can raise the resale value of your home when you chose to sell it away? According to the most recent research, solar panels would raise the value of your home by an equivalent of 4.1%, though the figure can differ based on the scale of the installation. With a yearly payment plan, the installation of solar panels at your house is extremely affordable. There is a 25-year manufacturer's performance warranty on your installed solar panels.
Contact any one of our solar industry experts, and they can help you determine which strategy is ideal for you. Contact us right away!
Solar Panels Installation with Batteries
You can store the solar energy generated during the day using a solar battery so that you can use it during the night hours when the solar panels are not generating energy. Notably, when the price of the batteries has declined dramatically in recent years, solar battery installation has become more and more obvious with solar panel installations.
With personalized solar panel installations in Hounslow that satisfy customers' energy demands and contribute to the preservation of the planet's future, it is our dire commitment to assist consumers to save money.
When you get in touch with us at Evergreen Power Solar, we will provide you with a thorough solar estimate entirely free of charge but without any commitment to move forward. Get an instant QUOTE right now.