Direct current is produced by Solar Panels by converting the sun's energy throughout the day. Sunlight is required for your solar power system to produce any power. As a result, when it is cloudy outside, your solar panels would generate a little less energy. Even if you dwell in a cloudy city, going solar is a wise choice due to high electricity bills and financial advantages. So, we highly recommend going Solar to safeguard yourself from inflating energy costs.
Not only this, Solar Energy Systems increase the value of a home when it is time to resale it. Going solar will typically lead to a boost in property value greater than any other renovations. Solar power is produced with the assistance of only top-notch solar panel installations in Greenwich. You must recognize the potential of sustainable solar power systems for your home in order to achieve it.
if you are thinking about installing residential solar panels in Greenwich for your home, or any other residence in Greenwich, UK.
Contact the Solar panel Installers at Evergreen Power Solar to obtain a Bespoke Quotefor dependable residential solar systems.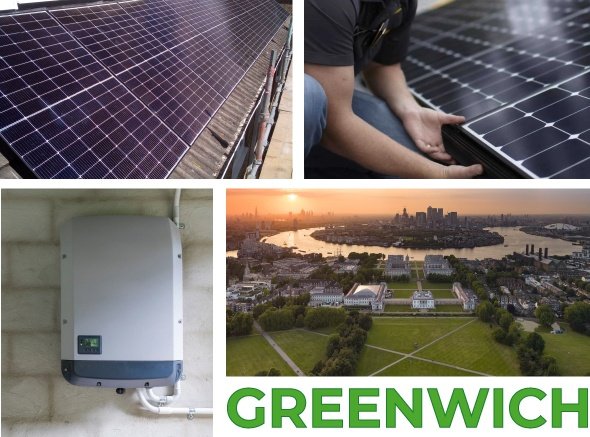 Our Services: Solar Panel and Battery Installation
Contact the Evergreen Power Solar team with your expectations and requirements so they can assist you in preparing for an eco-friendly livelihood. We inspect your property, present you with appropriate energy-saving options, and afterwards, our team of experts and professionals takes over. The best equipment and procedures are used to help you get the most out of your solar panel installation.
As experienced solar system installers, We are aware of the installation requirements for a home, as well as the equipment and storage battery capacities required. Further, our skilled contractor will decide whether establishing an off-grid or hybrid solar power system is more effective.
Get a skilled Greenwich solar panel installer with Free Quote to handle the installation of your solar panels and batteries for limitless solar power.
How do we Install Solar Panels?
We simplify the process as easy as possible for our clients as the finest UK Solar Panel Installers.
● To determine the most suitable option for your requirements, our experts will evaluate the property.
● We will discuss the most economical and practical methods for making your property more environmentally friendly, sustainable, and energy-efficient.
● The chosen solar panels will then be installed by the certified installation crew employing only the best products.
● You'll get explanations and demonstrations so you can feel secure and in charge of your renewable power options.
● A warranty will be provided to you for the solutions. Moreover, we can help you with maintenance too.
Contact the competent Solar Power Installers at Evergreen Power Solar for an Instant Free Quote in Greenwich or if you want to learn more about the requirements for solar battery storage, or any other queries related to solar panel installation.