Solar photovoltaic technology use PV cells to transform the sun's energy into power if you want to lower your electricity costs and possibly produce your own excess electricity. Because these cells don't need direct sunlight to function, they can still function even during overcast days.
Our skilled staffs of fully licenced electricians and other specialised installers take great satisfaction in providing prompt, efficient installation service to homes in many regions across Camden. At Evergreen Power Solar, we strive to accomplish your task of solar panel installation on time and within budget by working with great consistency and transparency on everything from installations of solar panels and storage batteries and surveys to fine services.
We provide Free, no-obligation quotes for all types of tasks to help you understand the costs involved, and our workmanship is guaranteed to meet the highest standards.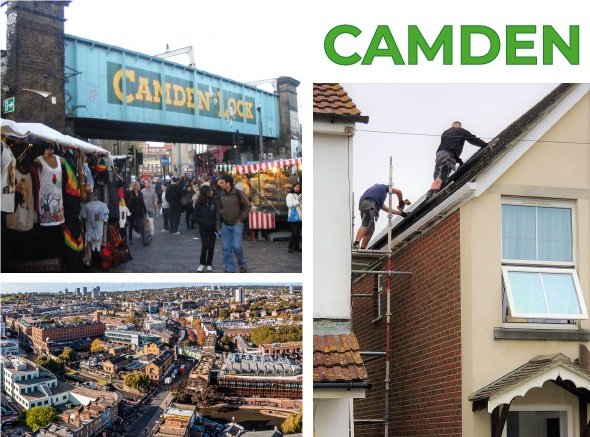 Our Team of Professionals and Experts
We are a sophisticated and expert team with a lot of expertise in the solar field. As a result, we have installed a huge amount of solar panels, providing dependable solutions to the rising cost of electricity. We are nationally recognized and licenced solar panel installers in Camden, UK. We provide solar panel installations that meet UK norms and laws. Because of this, we only cooperate with trusted companies that have been around for a while.
Contact us right away, and Get a Bespoke Quote instantly in Camden.
Leading Solar Panel Installers in Camden
Our company has a policy of providing high-quality services and guaranteeing customer experience. Without using external labour, our own expert installers complete the entire task. You can therefore be sure that we will produce the best results whether you desire us to provide or install solar panels on your property. We at Evergreen Power Solar are familiar with UK extreme weather. We thus install high-quality solar panels which are designed to withstand severe weather conditions.
If your solar panels are just not functioning as they should, we are always accessible for inspection. We have a local presence and are familiar with the region. As a result, when you approach us about a defective solar panel, we can dispatch the nearest professional right away.
Ask our team of professional and leading solar panel installers in Camden if you're prepared to turn your desire to own a dependable and green energy source into a reality.